Longer RAY5 10W Laser Engraving Machine (10-12W Output Power)
---
---
● 10-12w laser power, stronger engraving and cutting capabilities than Ray 5w
● Ultrafine 0.06*0.06mm Laser Focus Point, High Accuracy Laser Engraving & Cutting
● Large Working Space: 400mm*400mm(15.75''*15.75'')
●3.5'' Built-in Touch Screen & Offline Work, more convenient to operate
●More engraving materials: more than 1,000 materials such as wood, metal, acrylic, glass, leather, etc.

Save -70%
$330.00
$1,099.99
---
US Warehouse: In stock in the US (arrived within 2 to 5 days)

30-Day Returns: Protect your shopping experience

12-Month Warranty: Perfect after-sales service

LONGER RAY5 10W Features:
Touch Screen & Offline Carving: LONGER RAY5 laser engraver has a built-in 3.5 touch screen with a friendly user interface.  This allows us to cut multiple pieces of plywood or images to be engraved without tying up your computer to run it. The Longer Ray5 has a built-in controller and no computer required to connect the laser engraver all the time. Save your file to a TF card, and use it to run the Ray5 for engraving or cutting.
Ultrafine Laser Point & Powerful Laser Module: This laser engraver comes with the latest FAC laser technology for compressed laser point, the size of the point is 0.06*0.06mm; The smaller size of the point, the more focused the energy. This allows the engraving or cutting to be much stronger. The output power of the laser module reaches 10W.
32-Bit Chipset & WIFI Connection: RAY5 is built with an ESP32 chipset and includes a WIFI connection for the engraver to router. This 32-bit chipset is running at 240MHz.  That means it is faster and more powerful than comparably equipped machines with 8-bit chipsets. As an added bonus, the RAY5 supports WIFI connections through the web page or App to control engraving or cutting.
Safety Protection: LONGER RAY5 is designed with move protection and thermal protection functions. If the machine is moved while in use, Move protection will initiate auto-shutdown for personal safety. Thermal protection initiates an auto-shutdown if it detects a flame or the engraving area overheats.
Compatible with Windows/MAC/Linux System: RAY5 is compatible with free engraving software LaserGRBL and paid LightBurn software. It supports import with BMP, JPG, PNG, DXF, AI, SVG, etc file format.
Power Button & Eye Protection: The laser engraving machine comes with a power switch to turn the power on or off. The laser module has an acrylic cover.  This shields the laser light to help protect eyes. You will want to wear eye protection for laser scatter as well.
Upgradable Laser Module: RAY5 laser engraver is upgradable. The power supply and mainboard support an upgrade to a more powerful 8W/10W laser module.
Best Performance and Most Cost-efficient: Powerful, Precise and Safe!
Ray5 10w with 3.5" touch screen added new functionality like multiple ways for data transfer and multiple machines control. Compared to other laser engravers, it can engrave up to 1000+ materials.
LONGER RAY5 10W Laser Engraver Parameter:
Brand: LONGER
Type: Laser Module Set
Model: RAY5 10W
Laser Technology: Compressed Double Beam Technology
Wavelength: 450 - 460 nm
Max Power Input: 12V 3.2A
Optical Power Output: 10 - 11W
Focus Type Fixed Focus: 50mm Focal length
Ultra-fine Laser Spot: 0.06x0.06mm
Laser Class: FDA Class IV, or Class 4 IEC standard
Working Life: 20000 hours
Working Temperature: 0 - 70 Celsius
Product Weight: 285g
Package Weight: 435g
Package Size(L x W x H): 23x10x12.5cm
Applicable Material:
Engraving: Plywood, Basswood, Hardwood, Pinewood, Acrylic, Kraft paper, Stainless steel, Aluminum alloy, Ceramics, etc.
Cutting: 10mm Basswood, 14mm Pinewood, 6mm Acrylic, 4mm Bamboo, Kraft paper, etc.

Family Crafts
Business Creative
Holiday Gifts
FAQ:
Q: What software does the engraving machine support?
A: LightBurn Software For Windows(XP/7/8/10) / MAC /Linux; LaserGRBL Software For Windows Only.
Q: Can ray5 auto focus?
A: No it can't. Manual focusing is required.
Q: Does it come with the laser rotary roller?
A: It does not come with a roller, you need to buy it yourself, the store sells the roller. Q: What is the actual working area?
A: Ray5 10W engraving area is 400*400mm(15.75X15.75In).
Q: How does it handle tall or bigger items?
A: For RAY5 10W, I suggest raising the frame up on the corners when the thickness of the plate exceeds 40mm in order to be able to focus and work properly.
Q: Can you engrave on stainless steel cups with this product?
A: Yes you can, but it requires the roller attachment to engrave that shape. Also, if you want your engraving to be black vs silver you need the etching compound.
Q: How long is the life of this laser?
A: The service life of the laser is about 20,000 hours. If it exceeds this time, you need to replace.
Q: What is the maximum speed (mm/min or mm/sec) that this can burn at?
A: The maximum speed can be set is 10000/min,But the speed and energy needs to be set according the material and pattern, Too fast speed may affect the engraving or cutting effect, so we recommend you to adjust the setting according recommended parameters for get a better result.
Q: Can I use wifi ?
A: Yes.Except computer,the mobile APP "MKSLaser" available for Android & iOS allows you to use Ray5 directly from your smartphone, not only to control the machine but also to edit the images andthe related engraving parameters on the move.
Q: Is a laser a fire danger?
A: When used properly, your laser engraver is far safer than your expected.Ray5 has flame detection:When the engraving material catches fire, RAY5 can recognize and automatically stop working and alarm.
Q: Can I cut metal? What are the specifications?
A: You can engrave stainless steel and aluminum oxide . If you paint the metal surface black before engraving, the engraving effect will be better, because the unpainted metal surface will reflect light and reflect a large part of the laser energy.
Q: What materials are supported by the laser engraver?
A: Support engraving materials:All wood, paper, plastic, leather, PCB board, aluminum oxide, non-reflective plating, and lacquered metal.Support cutting materials: Cardboard, non-woven fabric, light wood, Acrylic material, thin plastic board. The newly launched Ray5 10W has better performance. The 10W laser head adopts compressed double beam technology: the new technology makes the laser power larger, the spot (0.06mm) and the laser beam are finer, the laser focal length is longer (50mm), and the energy Higher density, stronger cutting ability, can easily cut 20mm pine board. 0.06*0.06mm laser spot, 0.01mm engraving precision means Ray5 engraving is more accurate, the texture is clearer, and the pattern is more delicate and beautiful. The high-speed 10000mm/min, smooth composite frame structure makes the RAY5 run stably, and there will be no vibration during operation to cause the laser to shift, ensuring the engraving accuracy, the lines are coherent and clear, and the engraving produces less sawtooth.
Q: Are Laser Engravers Safe to Use?
A: People often think that using a laser engraving machine is unsafe, such as fear of causing a fire and hurting your eyes, in fact, if used properly, your laser engraver is much safer than your expected. The newly launched Ray5 10W has 5 safety protections:1. Flame detection function: When the engraving material catches fire, RAY5 can recognize and automatically stop working and alarm2. Displacement detection function: There is a gravity sensor on the main board, if the machine detects unauthorized movement, the laser beam will stop running.3. Motionless protection: When the laser module stops moving for more than 15 seconds, the laser will automatically turn off.4. Fireproof acrylic: With the new laser protection cover, it can quickly prevent burning, and its flame retardant effect is better than other ordinary boards.5. Eye protection function: Ray5 is equipped with the latest panoramic filter glass protective cover, which filters 97% of ultraviolet rays and protects the eyes safely.
Q: Is ray5 10W easy to assemble? How long will it take to assemble it?
A: RAY5 10W laser engraver is designed for quick assembly and the assembly can generally be completed within 10-20minutes. You also can watch the following Quick Start Guide.
LaserGRBL VS LightBurn Software
LaserGRBL (Free) (Windows): LaserGRBL Download Page
LaserGRBL is one of the best Windows software for image Laser Engraving. It is able to load any image, pictures and logo and send to your laser engrave with few click. It is specifically developed for use with hobbist laser cutter and engraver and could be a good free and easy alternative to picengrave, benbox, T2laser, lightburn for who don't need more then a simple and effective tool. LaserGRBL is compatible with any engraver based on Grbl v0.9 and Grbl v1.1 standards.
LightBurn (Paid - 30 Day Free Trial) (Windows/Mac OS/Linux): LightBurn Download Page  , Purchase LightBurn software key.
LightBurn is layout, editing, and control software for your laser cutter. With LightBurn you can:

- Import artwork in a variety of common vector graphic and image formats (including AI, PDF, SVG, DXF, PLT, PNG, JPG, GIF, BMP)

- Arrange, edit, and even create new vector shapes within the editor, with powerful features like offsetting, boolean operations, welding, and node editing

- Apply settings like power, speed, number of passes, cut order, brightness & contrast, dithering mode, and much more

- Send the result directly to your laser cutter

LightBurn is a native application written for Windows, Mac OS, and Linux.
We offer free & discreet shipping. Our goal is to ensure that the items are delivered to our customers as quickly as possible.
Country or Region
Shipping Method
Ships From
Shipping Time
Shipping Fee
United States
UPS
US warehouses

3-5 Business Days

Free

United States

DHL/

FedEx

China

8-15 Business Days

Free

EU Countries

DHL
European warehouse
3-5 

Business Days

Free
EU Countries:  Germany, France, Italy, Austria, Netherlands, Spain, Belgium, Bulgaria, Croatia, Czech Republic, Denmark, Estonia, Finland, Greece, Hungary, Ireland, Latvia, Lithuania, Luxembourg, Malta, Poland, Portugal, Romania, Slovakia, Slovenia, Sweden.
Order Processing
Orders will be processed within 1-2 business days of receipt of full payment.If it is shipped from the shipping warehouse in China, the delivery time will take about 8-15 business days, if it is shipped from a local warehouse, then the delivery time will only take 3-5 business days.This is the estimated time. Exceptional circumstances may extend this time frame (such as holidays, snowstorms, heavy rain, or COVID-19, etc.)
We ship from four warehouses in China, the United States and Europe, so the products in the same order may be shipped from different warehouses, depending on the buyer's location and whether the product is in stock overseas.
If an item you ordered is temporarily out of stock, one of our customer service representatives will contact you. You can choose to wait for restock or cancel your order.
Freight Charge
All products on Htpowlasers are free of postage. Except for remote areas, if the area is remote, you need to pay additional shipping fees. You can consult customer service before selling, and we will choose the best option for you according to the quotation given by the logistics provider.
About Import Tax
Any shipment from our US warehouse or European warehouse is duty-free and customers do not need to deal with import duties. However, any goods shipped from the Chinese warehouse to your country may have tariffs, which will be determined according to your country's customs policy.
Shipping Method and Shipping Time
Once shipped, you will receive a shipping email with the tracking number. Usually you can track your package at: https://www.17track.net
Our goal is to ensure that items are delivered to our customers as quickly as possible.
The shipping methods we use are UPS and DHL,All products sold on Htpowlasers are guaranteed to be delivered within 30 days (excluding exceptions). If you have not received your product after this period of time, you are entitled to a full refund after inspection by post.

Shipping times are estimates. Invalid address, customs clearance procedures, COVID-2019, bad weather or other reasons will cause the delivery time to be longer than expected.
Notes:
1- Working days: working days refer to Monday to Friday (except holidays and weekends)
2- The times we write are estimated general delivery times
The exact delivery time depends on your location and the origin of the package. If you need more information, please contact our customer service. We will answer your questions as soon as we see your email
If you have any other questions, please contact: htpowlasers@outlook.com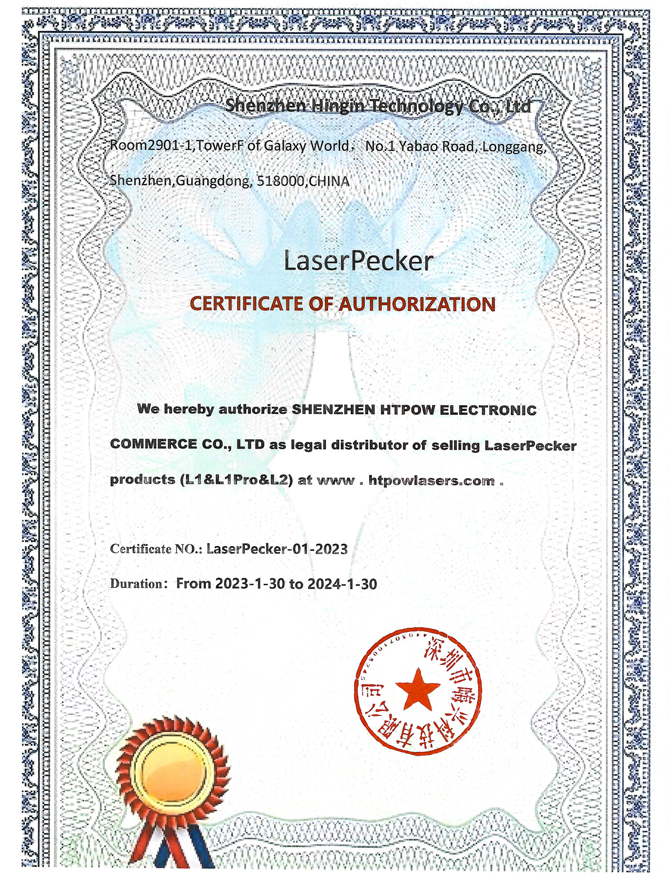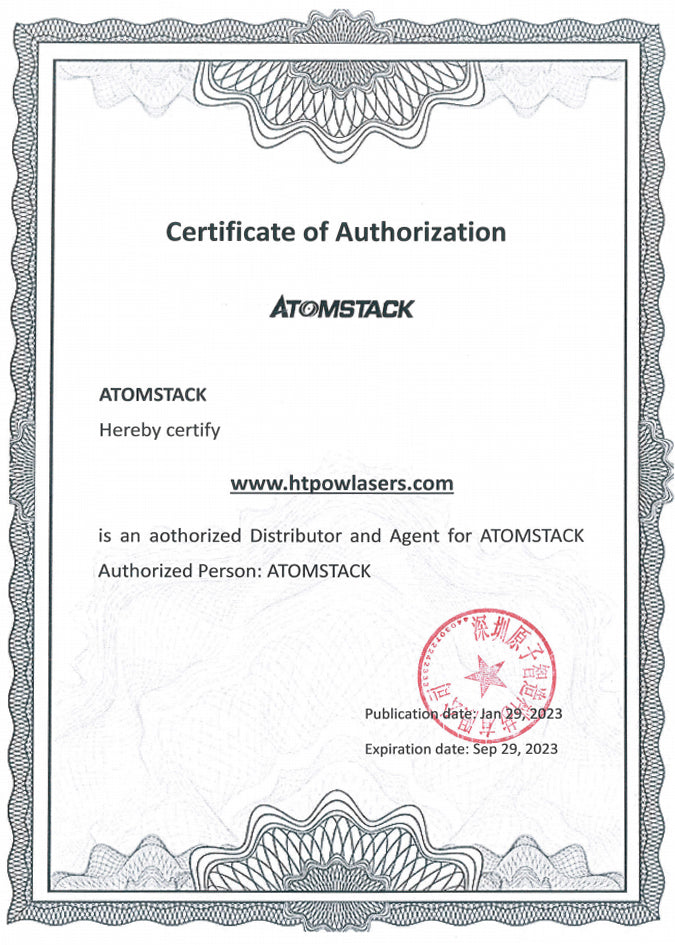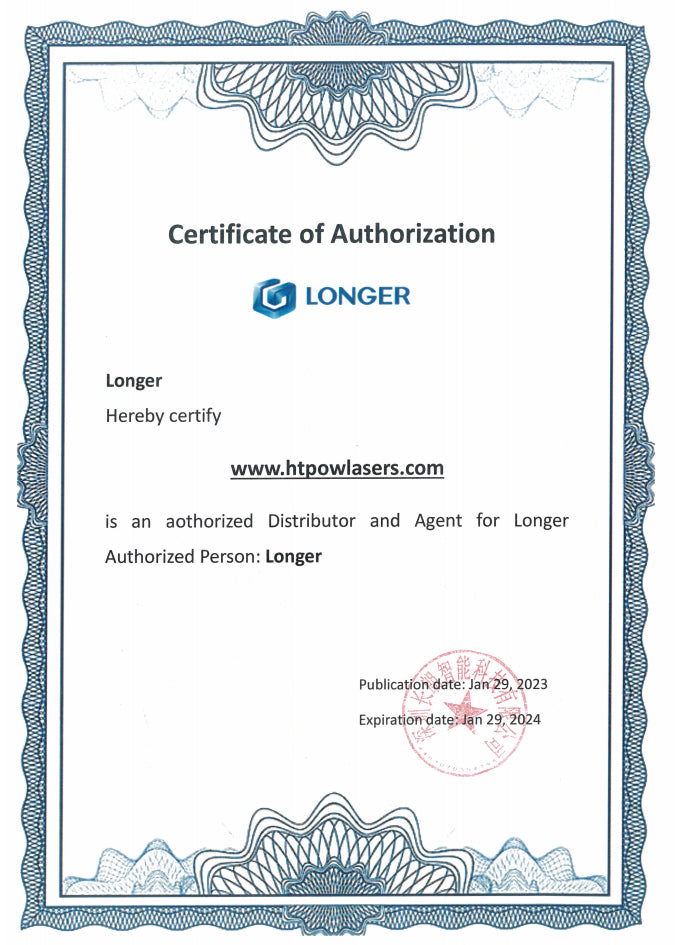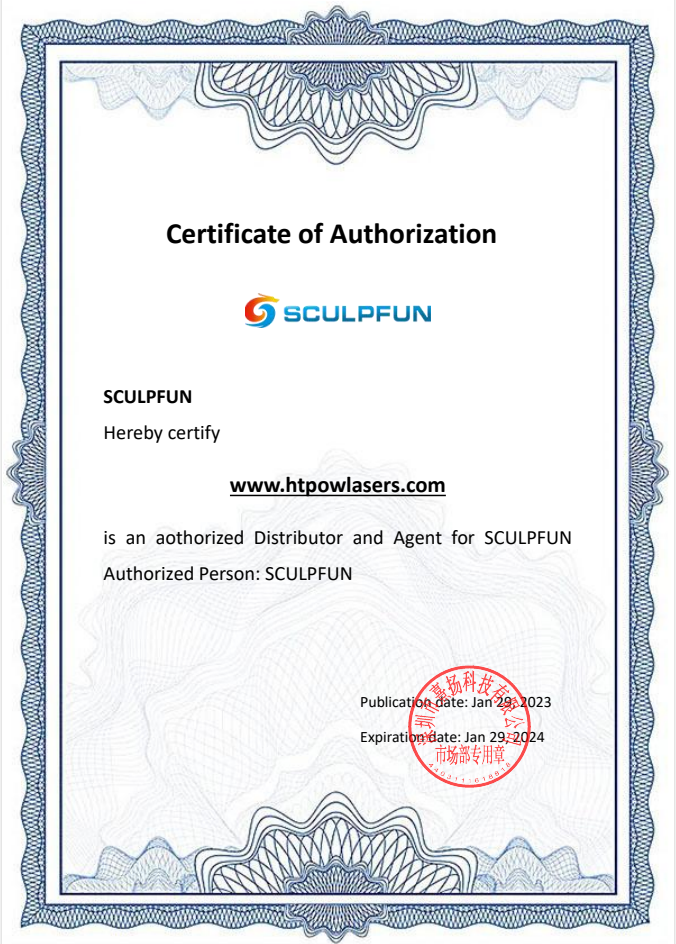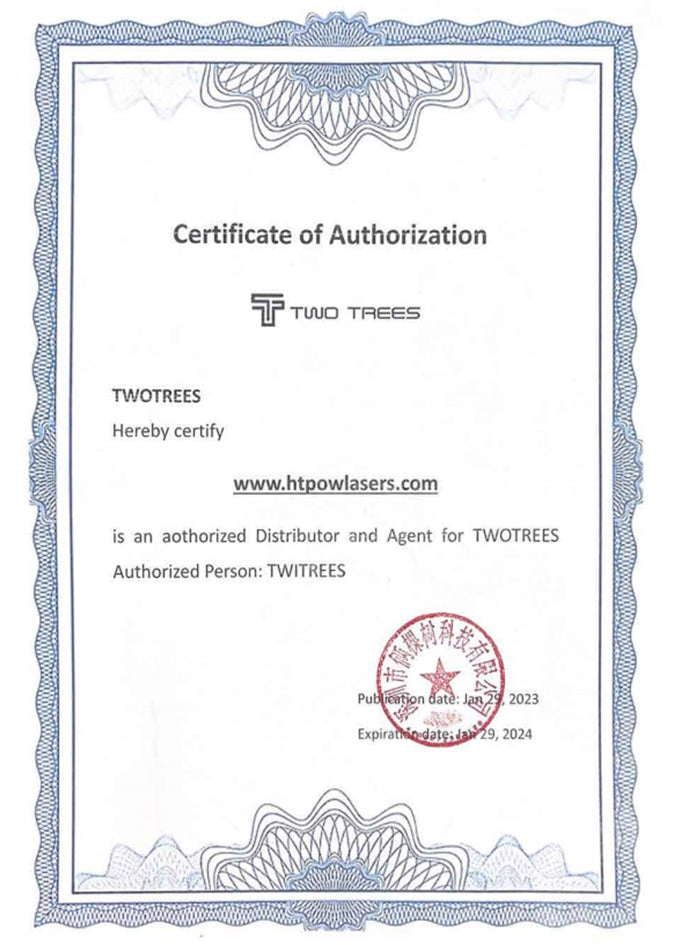 Longer RAY5 10W Laser Engraving Machine (10-12W Output Power)
Save -70%
$330.00
$1,099.99