Atomstack M150 160w 6-Diode Cores Laser Module With Cooling Fan For Laser & Cutting CNC Machine Can Cut 15mm Thick Plates At One Time
---
---
● Metal Cutting And Color Engraving
● Non-Clogging Air Outlet, Non-Polluting Design
● Can Cut 15mm Thick Plate At One Time
● Also Suitable For Ortur, Neje, Two-Trees And Other Brand Machines
● Can Be Used For Laser Cutting Machine, Laser Engraver, CNC, DIY laser
Save -27%
$659.99
$899.99
---
US Warehouse: In stock in the US (arrived within 2 to 5 days)

30-Day Returns: Protect your shopping experience

12-Month Warranty: Perfect after-sales service

Atomstack M150 Description:
High adaptability: The M150 laser module can be installed on most laser engraving machine models of the Atomstack 10W series, 20W series and can be used by simply using the corresponding adapter board, without any additional setup. If you own other brands of engravers such as Ortur, NEJE, Two-Trees, etc., you can also install our Atomstack M150 laser module, which comes with a free adapter in the box.
Strong power: The M150 couples six laser chips after compressing the spot. Compared with 20W modules on the market, its powerful power can increase the cutting depth of wood board by 25%, and with the same parameters, increase the cutting speed by 50% and the clear engraving speed by 65%, which greatly improve work efficiency.
Non-blocking air outlet and pollution-free design: In the feedback from various brands of high-power laser modules, we noticed that almost all laser modules will have their air outlets blocked after a long time of cutting, and the internal lens will get dirty, which will lead to poor working results and even reducing the life of the laser head. Therefore, the M150 adopts the patented dual air collection duct design, with two air collection ducts coming with different functions. Cleaning debris and oil with scientifically designed air ducts, the laser is always clean and its life can be extended by 50%.
Metal cutting and color engraving: Thanks to the powerful optical capabilities of the M150, all users can try more interesting new jobs. Such as cutting stainless steel sheet of 0.05mm or color engraving on stainless steel sheet in over 360 different colors.
Higher laser power and faster engraving speed! NEW ATOMSTACK M150 33W six Ultrafine Compression Spot Laser Module: Can be used for laser cutting machine, laser engraving machine, CNC, DIY laser. Upgraded high quality fixed focus laser, no need to focus. The engraving speed is 150% higher than 20W lasers.
Applicable Models:
10W Series: Atomstack X7 Pro, A10 Pro, S10 Pro
20W Series: Atomstack S20 Pro, A20 Pro, X20 Pro
33W Series: Atomstack X30 Pro, A30 Pro, S30 Pro
Atomstack E85 Working Area Expansion Kit
Other brands Models such as: Ortur, NEJE, TwoTrees, etc.
Note: Unsuitable Atomstack models:
5W Series: A5 Pro, A5 Pro+, A5 M30, A5 M40, A5 M50, X7 40W, A5 20W
P Series: P7 M30, P7 M40, P9 M40, P9 M50
Atomstack M150 Laser Module Specification:
Brand: Atomstack
Model: M150
Optical Output Power: 30-33W
Product Material: Aluminum 6061 Anode
Housing Size: 140*65*60mm
Circuit Board: V/PWM Modulation Board
Wire Rod: 22# 2P2.54 Terminal Reverse Wire 80mm
Optical Lens: φ6/glass
Fan: 24V
Laser Beam Mode: Spot
Working Mode: Pulse Work
Lightspot Size: 0.08*0.1mm
Working Time: 10000H
Working Temperature: 0℃~70℃
Storage Temperature: -40℃~85℃
Sintering Temperature: 2400~3000℃
Net Weight: 815g
Features:
It can be used for laser cutting machine, laser engraver, CNC, DIY laser.
Laser protective cover: The laser is equipped with a protective cover that protects the eyes of the user without the need to wear additional protective glasses and prevents pets from grabbing the laser spot.
Made of aluminum, sturdy and durable.
Upgraded high quality fixed-focus laser, no need to focus.
Aviation aluminum TTL driver board with cooling fan can ensure long continuous work.
Engravable materials: wood, bamboo, cardboard, plastic, leather, PCB board, aluminum oxide, non-reflective electroplating layer and lacquered metal, Utility knife Utility knife after blackening.
Materials that can be cut: cardboard, non-woven fabric, veneer, acrylic, some thin plastic board.
0.08*0.1mm six compression spot light coupling technology makes engraving more powerful and precise.
Engraving speed is 200% higher than 20W lasers.
High energy can cut 15mm thick plates at one time.
The laser sintering temperature is up to 3000 ℃, so engraving metal is better.
The laser has a built-in horizontal gyroscope anti-tip protection device, and it stops working when the tilt angle is 20°.
The wind-collecting hood can clean the smoke and dust to protect the lens and avoid laser energy decay.
The transfer circuit board is compatible with 95% of laser engraving machines on the market, Including Atomstack, Ortur, Neje, Twotrees, etc.
Caution:
The laser light emitted by the laser module is likely to injure persons'eye, so do not directly gaze its end and wear appropriate safety glasses to prevent laser light when it is working.
Laser module needs a proper laser driver (PCB). When the laser module is connected with power supply, please set the output voltage to zero. The adjustment of the current should be slowly increased or decreased to avoid damaging the device.
Keep the device in a dry environment for work or storage. The anti-dust grade is over one million to prevent dust inside the lens from affecting the laser dot shape.
Working at high temperature will increase the threshold current, reduce the conversion efficiency and speed up the aging of the device.
When output power is higher than it's specific parameter of operation, it will accelerate the aging of the device.
When the operation temperature of the laser diode is over 70 ℃, please do well in heat dissipation of it.
This laser module is an electrostatic sensitive device. Please make sure ground yourself or wear an antistatic wrist strap before take it.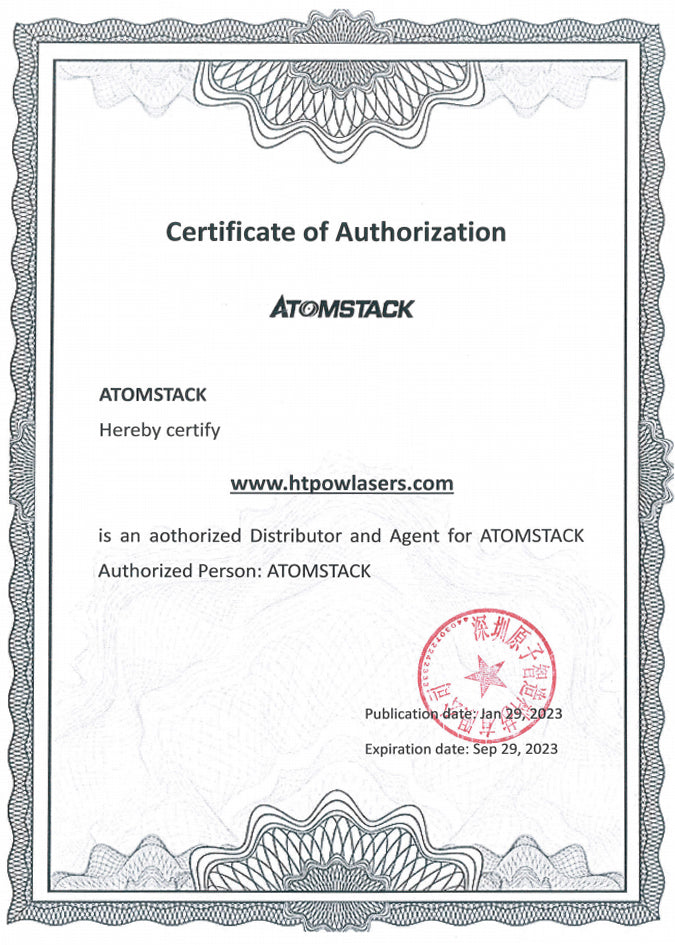 LaserGRBL VS LightBurn Software
LaserGRBL (Free) (Windows): LaserGRBL Download Page
LaserGRBL is one of the best Windows software for image Laser Engraving. It is able to load any image, pictures and logo and send to your laser engrave with few click. It is specifically developed for use with hobbist laser cutter and engraver and could be a good free and easy alternative to picengrave, benbox, T2laser, lightburn for who don't need more then a simple and effective tool. LaserGRBL is compatible with any engraver based on Grbl v0.9 and Grbl v1.1 standards.
LightBurn (Paid - 30 Day Free Trial) (Windows/Mac OS/Linux): LightBurn Download Page  , Purchase LightBurn software key.
LightBurn is layout, editing, and control software for your laser cutter. With LightBurn you can:

- Import artwork in a variety of common vector graphic and image formats (including AI, PDF, SVG, DXF, PLT, PNG, JPG, GIF, BMP)

- Arrange, edit, and even create new vector shapes within the editor, with powerful features like offsetting, boolean operations, welding, and node editing

- Apply settings like power, speed, number of passes, cut order, brightness & contrast, dithering mode, and much more

- Send the result directly to your laser cutter

LightBurn is a native application written for Windows, Mac OS, and Linux.

Atomstack M150 160w 6-Diode Cores Laser Module With Cooling Fan For Laser & Cutting CNC Machine Can Cut 15mm Thick Plates At One Time
Save -27%
$659.99
$899.99