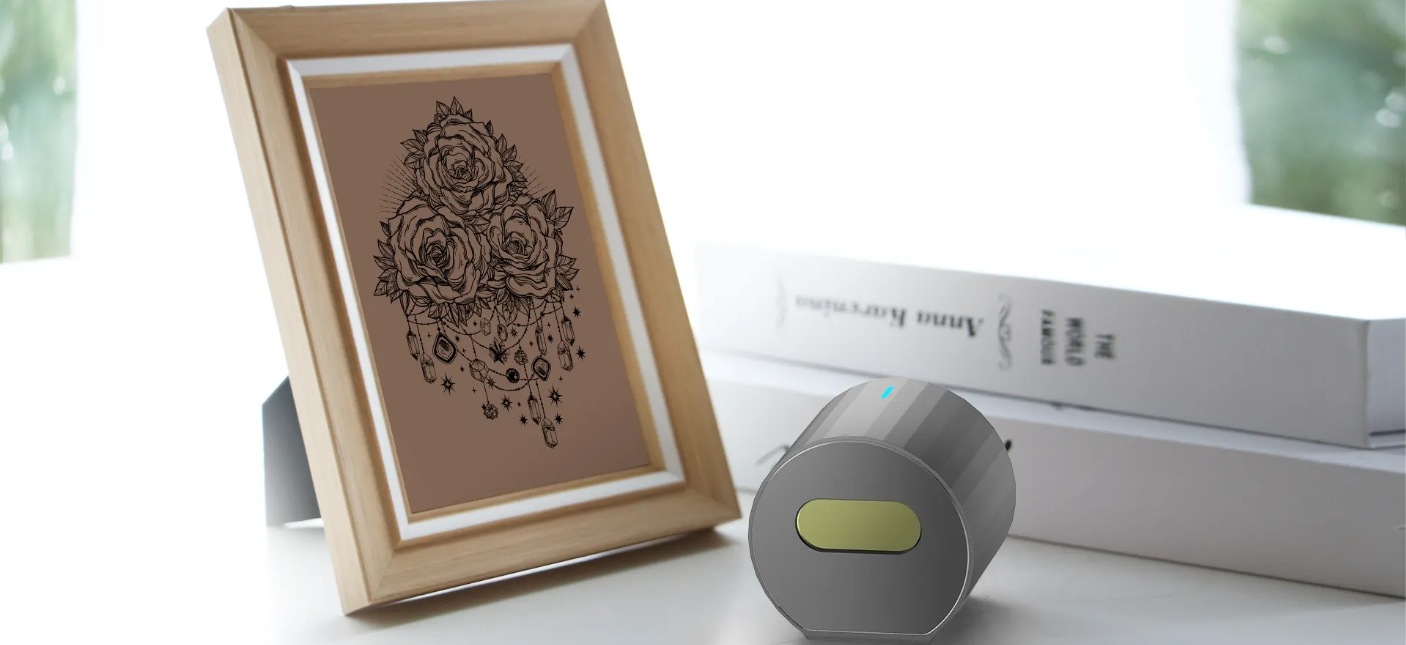 Review of the LaserPecker 3 Laser Engraver
In the field of compact laser engravers, the LaserPecker 3 certainly stands out. It has an innovative and well-thought-out design, and its unique features, such as the multi-function drum motor, make it an exciting tool for hobbyists and businesses alike. The setup process can take some time and effort, but once done, it provides an impressive, user-friendly experience.
In an ever-growing technology field, laser engravers have carved out a unique niche. Their precision, speed and versatility open up new opportunities for hobbyists, entrepreneurs and industry.
Today's cutting-edge products deliver the highest level of performance and are capable of producing images that previous iterations could only dream of. In this in-depth review, we're exploring the
LaserPecker 3
, an innovative development sure to impress you. This is our experience.
After receiving the LP3, the first thing that catches the eye is its packaging. Open it up and you'll see a compact storage box that neatly houses the laser and all its accessories. It was clear from the start that
LaserPecker
valued both aesthetics and practicality. The case is made of high-quality materials and looks solid and well-designed.
The handle design simplifies transportation, reflecting its portability and practicality in various environments. The case is also touted as being reusable and recyclable, offering an eco-friendly touch. Inside, components are securely arranged for safe shipping and easy unboxing. These components include the LaserPecker 3, motorized stand, motorized drum, laser safety glasses, US standard adapter, two Type-C cables, five aluminum business cards for test engraving, and a wooden ruler.
Initial impressions of the unit itself are very positive. It's compact, measuring 6.39 x 2.3 x 4.80 inches, and weighs a relatively light 3.52 pounds. Despite its small footprint, it has a rugged build quality that instantly inspires confidence and ensures reliability. The first notable feature is the 1064nm pulsed infrared laser, which is distinctly different from the 450nm diode laser of the previous LP2. This fiber laser is designed for engraving metal and plastic materials without any pretreatment.
The motorized stand feels solid and well balanced, and it's clearly designed to support the LP3 during sculpting operations. Designed for 360° rotary engraving on cylindrical surfaces, the versatile drum motor is an innovative feature that expands the range of possible engraving projects. On the software side, it is clear that the model aims for versatility and user-friendliness. It's compatible with Android, iOS, Windows and MacOS operating systems and offers high-speed Bluetooth 5.0 for fast, reliable connections.
First impressions of the LaserPecker 3 so far are that it is a compact, well-designed, and versatile tool that promises high-speed, high-precision laser engraving. It's clear from the unboxing and initial inspection that this is a premium device for users who value precision, speed, and convenience. Now, let's talk about the setup process and what you can expect.
Setting up a laser for use involves several critical steps, including setting the correct focal length for the
laser engraver
. The process can be a bit technical for beginners, but it's not overly complicated. What's more, it's critical for getting the best engraving results. The first thing you need to understand is why focal length is so important and how it varies.
Early LP3 units will have a focal length of 115mm, while units delivered after November 2022 will have a focal length of 130mm. This change is mentioned in the user manual, laser lens, or visible through the app. But just in case you missed that, we hope you hear it from us too.
Remember that the focal length is manually adjusted and can vary from 1mm to 2mm, correct focal length is essential for optimal engraving. An incorrect focal length will affect the final quality and result in poor output. We can confirm this is true, but we can't say definitively that you need to fix this before starting. With this important piece of information out of the way, let's move on to the first-time setup experience.
Step 1: Displaying Two Laser Focus Points
First, we connect the laser to the application.
Once in the app, we navigated through the mode settings to "Stay at Red Light."
We place the material we want to engrave on the base of the LP3. NOTE: You can use the black metal plate that came with the device.
Next, we select the image we want to engrave and click Preview. Two laser focus points appear in the image preview box.
Step 2: Find the correct focal length
We adjust the height of the laser until the two points overlap. You can do this through the app or directly from the stand using the built-in arrow buttons.
Once set up you need to stop engraving and check that the two holes under the LP3 head are filled.
If the hole is not filled, use the included hex wrench to adjust the nut until the two laser spots overlap. Now you can focus normally by raising and lowering the unit until the points overlap.
If the hole is filled, use a ruler to measure the height and set the laser head to this height each time you engrave.
You are now ready to use the laser. Remember that getting your LP3 right will result in better engraving quality, so it's worth spending some time getting it right. We would like to highlight these steps to illustrate the complexity of the operation and explain why it is necessary. While many features are user-friendly, you cannot use them directly without proper configuration. You'll be glad you took the time to follow this important setup process. Your images will look better and the laser will be easier to use.
Operation and Function
Operation is a simple process (after the initial setup, of course), but it does not affect advanced features and functions. As mentioned, you can connect it to your smartphone or computer via Bluetooth. Once connected, you will be given a series of options. Through the companion app or desktop software, you can upload design files. They can be in various formats including JPG, PNG, G-Code, BMP, SVG or DXF, offering flexibility to suit different needs and preferences.
The laser spot size of the 1064nm pulsed infrared laser is only 0.01 x 0.01mm, ensuring the precision and clarity of the final engraved design. The device's laser is also designed to function optimally within a 4.5 x 3.1-inch work area, compared to 2.5 x 2.5 inches for traditional engraving. It's worth noting, however, that with the Multi-Purpose Drum Motor, the engraving area can expand to 4.52 x 78.74 inches on a cylindrical surface.
Another impressive feature is the engraving speed, which is up to 1,889 inches per minute thanks to its innovative galvo technology. Its preview speed was even more impressive at around 11,811 inches per minute. This high-speed operation allows for faster and more efficient completion of engraving tasks. Another notable highlight of the operation is the availability of multiple resolutions. You can choose between 1K, 2K, and 4K so you can decide the level of detail and precision of engraving based on the project at hand.
Material compatibility
Laser engravers are versatile when it comes to material compatibility. Unlike its predecessors, which required preprocessing for metal and plastic engraving, the LP3 can directly engrave a variety of metal and plastic materials. Compatible metal material types include aluminum, stainless steel, copper, silver, gold, titanium, and coated sheet metal. As for the plastic material, it can be used with PVC, acrylic, PET, etc. In addition, it can also be engraved on artificial leather, lacquered paper or wood, purple sand.
Get creative with the versatile drum motor
One of the most striking features is undoubtedly the ability to work on cylindrical surfaces, which is made possible by the versatile drum motor. This accessory enables 360° rotating engraving, providing a wide canvas for unique and personalized creations. The integration of this feature sets the LaserPecker 3 apart from many traditional engravers on the market as it breaks the boundaries of flat, 2D surfaces and enters the realm of more dimensions.
Now, everyday objects can be transformed into personalized crafts with your own unique mark. Additionally, items such as pens and jewelry can also be customized with intricate designs, whether to add a personal touch or enhance aesthetic appeal. However, despite its versatile engraving capabilities, the LP3 has its limitations. It's worth noting that it doesn't support engraving on wood, glass, stone, or leather. If your project involves these materials, LaserPecker recommends the
LaserPecker 2
, which is specially tailored to handle these substrates.
The potential of LP3 is not limited to personal use; it opens up new avenues for commercial applications as well. Businesses can use it to engrave logos, slogans, or other branding elements on promotional items. Furthermore, the precision and speed of the unit make it the ideal tool for creating bespoke commercial products, opening up new dimensions of creativity and uniqueness, making businesses stand out.
From hobbyists looking to add personality to their belongings to businesses looking to reinforce their brand, LP3 is equipped with the tools to make your vision a reality. This innovative device truly puts creative ideas at your fingertips. Don't be intimidated by the initial setup process. Once it's done initializing, you'll find it's a powerful and user-friendly machine with which you can create anything you dream up.
In the field of compact laser engravers, the LaserPecker 3 certainly stands out. It has an innovative and well-crafted design, and its unique features make it an exciting tool for hobbyists and businesses alike. The setup process can take some time and effort, but once done, it provides an impressive, user-friendly experience.
If your projects primarily involve engraving on metal and plastic materials, and you value precision, speed, and versatility, then the LP3 is certainly worth considering. Admittedly, it does have some limitations in what it can engrave. But those are few and far between compared to what it's compatible with. So you can unleash your creativity in exciting new ways.
---
Older Post
Key Features and Functions of the Ortur Laser Master 2
Newer Post
A fun LaserPecker 2 laser engraver in a small package