Personalized Father's Day Gifts He'll Really Love
Every year when Father's Day rolls around, it can be difficult to find the perfect gift for Dad. Let this diverse list take care of your search by highlighting these great personalized Father's Day gifts, from small keepsakes to big-ticket items he'll treasure for years to come.
Father's Day is coming and you're not sure what you can do to make your business stand out and increase sales?
Don't panic; we've rounded up unique laser engraved and cut creations for you that will inspire you.
Personalization is one of the most important factors in determining the perfect gift! Custom gifts allow customers to write down their message and add the wow factor, making the gift seem more personal and unique to family and friends.
1. This cheese board is a personalized gift for those who love cheese. You can engrave any custom message on the wooden surface.
2. This gift is very practical, perfect for those dads who like to fix everything in the house.
3. Create a magnet and personalize it by engraving a custom design.
4. Use the same technique to make the acrylic key ring.
5. For music lovers, you can create personalized signage
6. Create a stunning pair of personalized cufflinks with your initials engraved on them.
7. A hip flask is always a stylish gift that people will treasure forever.
8. Lettering thermos and mugs are practical gifts that everyone can enjoy.
9. The stainless steel key ring with personalized message will last for a long time.
10. Engraving custom photos on wood is one of the latest trends and can easily replace photo print portraits.
The sky is the limit with the
Longer laser B1 30W
laser engraver, as you can see you can engrave a wide variety of materials such as acrylic, wood, stainless steel as well as hip flasks and bottles.
---
Older Post
How to Transfer Photos to Glass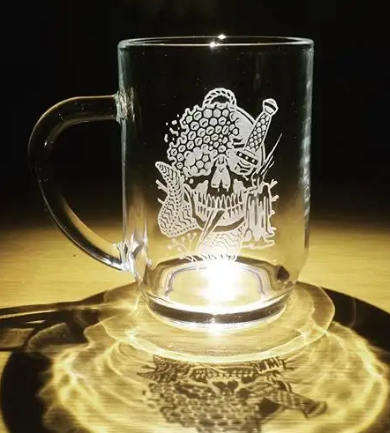 Newer Post
Why Ortur Didn't Follow the General Trend Upgrade to 20W?