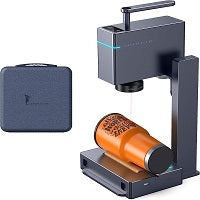 The 10 Best Laser Engravers for All Purpose
A laser engraver projects a laser beam onto surfaces of various materials, acting as a chisel and engraving patterns. In recent years, laser engraving has become increasingly popular in industries ranging from manufacturing and fine arts to personalization and customization.
Whether you're a small business owner looking to add a new service to your offerings, or an individual looking to personalize your items, a
laser engraver
can be a valuable tool. With so many options on the market, it can be difficult to know which one is right for you.
We'll take a look at the top 10 versatile laser engravers on the market and highlight their key features and functions to help you make an informed decision. Whether a professional or a hobbyist, this guide will give you the information you need to choose the best laser engraving machine. Material. They come in different types and choosing the best one depends on the material to engrave, type of design, application, budget, etc.
How to Find the Best Laser Engraver: Features to Look For
Choosing the right laser engraving machine depends on your purpose, usage and budget. Don't forget to check user feedback. Then, check the following among different laser engravers to see if they fit the above factors - and then make your choice!
a) Laser power and type
There are many types of laser engravers, from low power semiconductor laser engravers to powerful fiber optic and YAG laser engravers. The most commonly used lasers are diode and CO2 engravers, which come in different power levels.
If you are a skilled DIYer and plan to turn your hobby into a small business or class, you will find many diode and CO2 machines, although you can spend a fortune on a high capacity fiber optic engraver , especially if you want to tackle professional tasks.
b) Material compatibility
What kind of material are you going to use? Different types of laser engravers can effectively handle various types of materials. Generally, if you want to machine non-metallic objects, it is best to use a CO2 laser engraver.
Fiber laser engravers
, on the other hand, are better at etching metal. Diode engravers can handle both, but work slower. We recommend checking product descriptions and user feedback to see exactly what types of materials your engraver can handle.
c) Object shape
Do you want to etch designs on flat surface objects? Or are you planning to engrave on a cylindrical item with a curved surface? If it's just the former, any regular laser engraving machine will work for you. They have a large work bed that can accommodate flat items.
But for cylindrical objects you need to find the axis of rotation. This accessory usually attaches to a regular laser engraver and can be used to engrave on glass, mugs, etc. Also, check to see if the engraver can align the design on uneven surfaces.
d) Machine size
Small laser engravers are perfect for small workshops. If you're just starting to work in your bedroom or want to move your workshop to a corner of your garage, the small machine can fit anywhere. Some of them are handheld, giving you more control and maneuverability.
But keep in mind that the table on a compact router can be much smaller, making it difficult for you to work with larger objects. Some carvers have extendable work beds. Also note that it may take up space if you need a professional engraver.
e) 3D printing and CNC milling machines
You'll find many state-of-the-art machines that offer additional capabilities for 3D printing. These versatile machines can add value to your business as you can create a variety of custom designs and objects to suit your clients' needs.
Some laser engravers are also designed to accommodate a CNC mill, which together with three axes can give you 3D engraving. These are advanced features that you don't get your hands on quickly, especially in mid-range or low-end laser engraving tools.
f) technical support
Laser engraving tools must be able to properly interface with a computer or smartphone. It gives you exact control over how the design is engraved onto the object. A common way to operate a laser engraver is to start with a pattern uploaded or created on a design program.
Information from the design file is sent to the machine, which transfers that pattern onto the object by etching. It follows that laser engraving tools must be compatible with design software and paired with various operating systems and image file formats.
Now that you know a little about laser engravers, it's time to take a look at our favorite laser engravers. When putting together the list, we browsed through hundreds of items and picked items based on the above factors we mentioned above.
Members of our team have tried and tested routers that we like. So here is a list of our top 10 products that we recommend for a variety of uses.
1.LaserPecker 2 laser engraving machine
Best Portable Router
Suitable for beginners and professionals
Recommended for wood/leather
2. OMTech 50W CO2 Rotary Axis Laser Engraver
Best for Small Businesses
Ideal for curved and flat surfaces
Recommended for wood/plastic/leather
3. Aufero LU2-2 32-bit motherboard mini laser engraving machine
best for beginners
Ideal Small Portable Router
Recommended for Metal/Wood
4. Triumph fiber laser marking engraving machine
Best for Multipurpose Engraving Jobs
Ideal for corporate and advanced work
Recommended for Metal/Plastic
5. Double Tree TTS-55 20W Laser Engraving Machine
Best Pocket 3D Engraver
Ideal for multi-purpose use
Recommended for Plastic/Leather/Wood/Metal
6. ATOMSTACK A10 Pro 50W Laser Engraver
Best for beginners and professionals
Ideal for high power and high speed
Recommended for Plastic/Glass/Metal/Leather/Wood
7. Makeblock xTool D1 laser engraving
Best High-End Home Engraver
Ideal for precise and detailed designs
Recommended for glass/metal/leather/wood
8. Dremel LC40-01 High Speed Desktop Laser Engraving Tool
Best quality and safety features
Ideal for tabletop engraving work
Recommended for glass/wood/leather
9. NEJE 3 Plus N40630 Laser Engraver
The Best Tools for High-End DIY Tasks
Ideal for ease of use and great results
Recommended for Glass/Wood/Metal
10. Snapmaker A350T 3-in-1 Laser Engraver, 3D Printer and CNC Router
Best Overall/Editor's Choice
Ideal combination for engraving and 3D printing
Recommended for wood/leather
---
Older Post
Raster and vector engraving technology of laser engraving machine
Newer Post
Frequently Asked Questions About Laser Engraving Machines