Frequently Asked Questions About Laser Engraving Machines
Before we tell you about our favorite products, we want to answer some frequently asked questions about laser engravers. These will help you understand what to look for when buying equipment and how to choose the right engraver for your studio.
How does a laser engraver work?
Laser engraving machines can engrave patterns and letters on the surface of different materials. The heat from the laser beam burns the material and vaporizes it, turning it into smoke. Where the beam hits and causes burns, it will eventually leave permanent etches and deep marks.
Robust and precise machines deliver accurate and detailed designs. Most machines are powerful enough to cut thin materials and workpieces. Laser engravers are high-tech tools that use a computer or smartphone connection to capture design information through software.
Can anything be laser engraved?
What materials can laser engraving machines etch patterns on? Laser engravers can engrave designs on hundreds of materials. These include wood, metal, glass, plastic, leather and more. But a single machine may not be able to handle all of them.
There are different types of laser machines on the market for processing different materials. While some equipment can handle wood types and metal mixtures, many can etch on acrylic and fabric. Check the product description to see what it can engrave.
Why use a laser engraver?
Laser engravers have replaced most traditional methods of engraving a variety of materials. This is because it requires no manual work and provides unparalleled accuracy. Laser engraving machines are ideal for hobbyists, advanced artists, and professional engravers.
Laser engravers can help personalize gifts like wallets and rings. You can use them to add a touch of beauty and uniqueness to signs and exhibits. It can also add logos to keychains and bugs. Advanced engravers can process many objects quickly.
How expensive is a laser engraver?
Laser engravers come in a wide range of prices. Less expensive routers run around $150-200. On the other hand, engravers who perform high-end tasks for businesses can command prices in excess of $10,000.
Does Laser Engraving Make Money?
Laser engraving is more than just a hobby or a way to make custom, personalized gifts for your friends and family. This is an excellent business idea that can bring huge profits. Your only significant investment is a
laser engraver
. You can choose to engrave any object.
There are many affordable high-quality laser machines to choose from. They are perfect for professional use. Initially, you don't have to jump to fiber optic machines or equipment for bulk projects. Businesses that handle small items may be a good place to start.
Are Laser Engravers Worth It?
If you are an engraving enthusiast, you can enjoy the fun of engraving exquisite patterns and letters on different materials such as wood, leather, glass, metal, etc. For results, you should turn your ideas into reality with a laser engraver that incorporates modern technology.
Engraving has been known for hundreds of years. The process has evolved over the years, with state-of-the-art engraving tools using laser beams to carve patterns into the material. The good news is that you don't have to break the bank to indulge in junior engravers.
Can laser engraving machines cut workpieces?
Many laser engravers can cut the workpiece, depending on the material and thickness of the workpiece. They may not be able to cut and engrave on the same materials and objects with the same efficiency. Not all routers are designed for both.
However, it is best to remember that most machines are designed as cutters and engravers. Depending on the strength of the machine's laser, it may be more inclined to cut or engrave. Cutting requires a more powerful laser beam than engraving.
Are Laser Engravers Dangerous?
Operating a laser engraver can be risky because the laser beam is hot and powerful as it burns and cuts. Therefore, accidental contact can be dangerous. In addition, laser radiation can damage the eyes. Smoke rising from the surface of burning material can also be hazardous.
For this reason, most engravers include various safety features, such as housings to prevent exposure to the laser beam, and covers to protect your eyes from harsh UV rays. It's a good idea to invest in goggles and gloves to protect yourself. Also, please wear a mask when using the laser engraving machine.
---
Older Post
The 10 Best Laser Engravers for All Purpose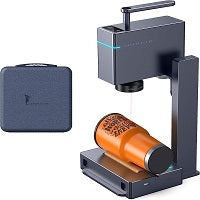 Newer Post
Top 3D Printer Models and Buying Guide